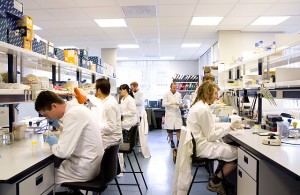 Today i had the pleasure of attending the NERC Biomolecular Analysis Facility (NBAF) workshop on metabolomics.
Metabolomics is the study of chemical processes involving metabolites. Specifically, metabolomics is the "systematic study of the unique chemical fingerprints that specific cellular processes leave behind" and metabolic profiling can give an instantaneous snapshot of the physiology of a particular cell.
Its an area I've no experience and went into the workshop with no burning 'need' to attend. It turns out this was mostly due to my own ignorance.  The applicability of metabolomics research is vast! From parasite to pesticide to stress effects, the things mebaolombics can uncover are astonishing! I'm a complete convert to metabolomics. I just need to come up with that killer metabolomics projects now…and the funding!